I am having a fabulous summer!
My husband and I have been to the beach:
We've been to the zoo:
My husband's band, The Reticent, had their CD release party:
I've been to a bridal shower:
I'm planning a bridal shower for that very same bride-to-be:
http://pinterest.com/cwhathcock/bridal-shower-ideas/
...but I can't help but notice that it's already July!
As you may know, I have a slight addiction to Pinterest. If you're not on there yet: what are you waiting for!?!? If you are on there, feel free to follow my pins: pinterest.com/cwhathcock
While I am enjoying my summer, I am also always thinking like a teacher. When I go into Dollar Tree, I always want to see what's new in the educational aisle, I want to go to flea markets so I can see what little odds and ends I can find for my classroom - furniture, centers activities, decorations for themes and/or holidays, etc. You know, a lot of teachers tell me that they spend less and less on their room each year, and while I understand it, I think finding the cutsie little things is half the fun! :)
I have two Pinterest Boards that are very broad and ever-growing: Back to School and Teacher Tools. Each time I find something useful, I just pin it there and I always make time to go through my pins to refresh my memory on WHAT I've pinned and to make sure that I try to USE some of the fantastic ideas that are out there! Being a teacher is so much fun when you find all these other great teachers out there who LOVE to share their ideas with the rest of us!
This is a neat little tool that I found just this morning and it made me say: "Wow! What else am I missing out on?" Do you all know about this - Random Name Generator: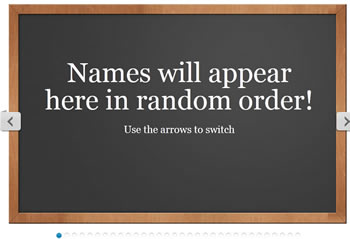 You can type in your class list and create a seating chart, groups, and it will create random groups of whatever size you need! No more popsicle sticks! :)
I also plan on having a "No Name" area in my room. It starts in kindergarten -- students need to learn to put their names on things! I typically begin the year by rewarding kids for writing their names on their work, then I back off when they are more automatic about it. (This picture is from
http://mrsbrowndotcom.blogspot.com/ - a cute display for hanging things with no name!)
I haven't found the perfect poster, yet, but I also intend to use sign language in my classroom this year. There will hand signals for everything! I don't want to use numbers like this one here, I want to use actual sign language letters. The ASL letter for W will mean "water," R will mean "restroom," S for "sharpen my pencil," T for "trash," N for "nurse" (I haven't completely decided on that one!), I for "I have a question" (easier than the Q!); there are lots of different things you can do with sign language and my problem might be limiting the signs! In kindergarten less is more!
I saw this on Pinterest, as well, and I haven't decided yet HOW I will do it, but I know I will do it - have something with rewards my students will get to DO instead of things they get to HAVE. I love this idea! Buying prizes for prize box on Fridays gets expensive!
I would much rather reward kids with a game, a dance, extra recess, a movie, a story on tape, sitting with a friend during work time, anything like that!
What kids of things do you do in your rooms to reward instead of with treats and prizes?